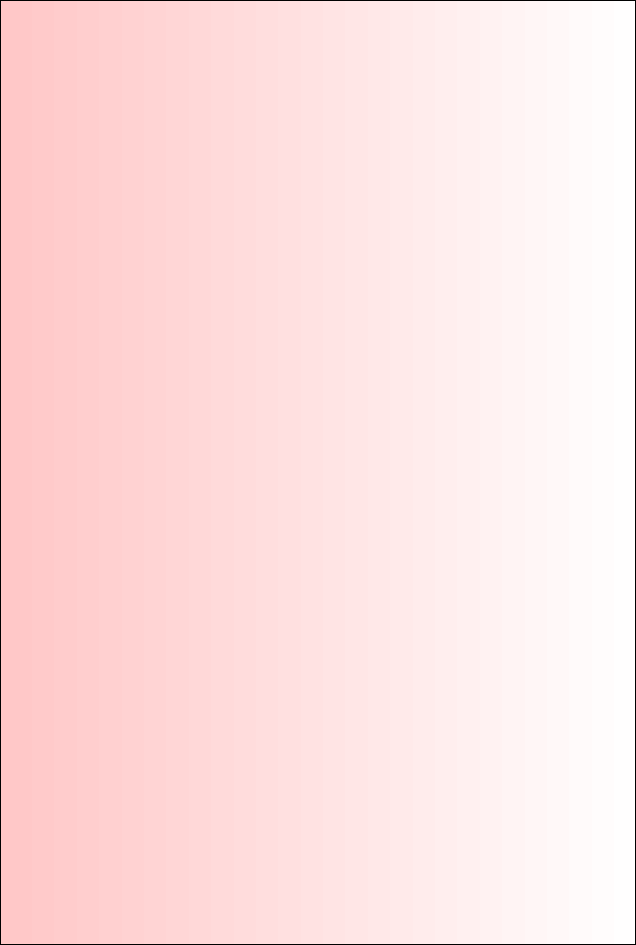 Phobos Audio
RDS Encoder EC 2005 X


New version of EC 2005X v.2 comes with direct synchronization and modificated RDS handling algorithm.
The RDS (Radio Data System) is capable to transmit data inaudibly via each FM transmitter. Data are sent by superposition of 57 kHz subcarrier into composite stereophonic signal. Today the RDS system is above all known as system which displays the name of tuned radio station and automatically changes frequency during car journeys.
RDS is capable to transmit much more informations, for example traffic announcements and radiotexts. RDS was developed in Europe and today is seeing success throughout the world. Aprox. 90% of car radios currently being built by the major manufacturers use the RDS system.

RDS encoder Phobos EC 2005X was developed in Czech Republic. It is a new version of RDS 2001X. System conception is built on deep informations about market and needs of clients. New RDS algorithms was developed. Enforced synchronization. One PCB concept, memory EEPROM 8kB, two microcontrollers (first microcontroller for synchronization, second for data handling) adjustments of parameters via serial port RS 232, seems to be ideal for private radio stations. Encoder transmits following RDS parameters: Station name, Alternative frequencies (up to 7), Traffic announcement, Program Type, Radiotext .... (PI, PS, TP, TA, MS, PTY, DI, AF, RT, new is EON (EON + CT only with PC with RDSWorld 2003) ).
One of major goals of development was to offer high quality for relatively low price. Encoder meets the specifications of RDS norm EN 50067. There is one special function - option of hardware control of TA by a remote switch. Installation for broadcasting a dynamic data is then very economical. For TA=1 ther is possible to define special PS and radiotext.

Configuration software for 32 bit Windows is included. Other software is ON-LINE special program for ON-AIR studio. Software can works on LAN and is capable to transmit dynamic TA and radiotexts. Program works in 32 bit Windows.
Encoder installation is very simple. Synchronization to pilot signal is automatic. In the case of monofonic broadcasting ( highway radio ) is possible to switch encoder to internal synchronization. 19 kHz synchronization input for older transmitters is also available.
RDS encoder Phobos Audio EC 2005X is economical solution from company with many years of experience with RDS. Warranty is two years.


Nová verze EC 2005 X v.2 přichází s přímou synchronizací a vylepšeným algoritmem zpracování RDS.
RDS (Radio Data System) je systém, který přenáší neslyšitelně data pomocí FM vysílače. Data, dělená do tzv. grup, jsou namodulována na pomocném kmitočtu 57 kHz (trojásobek pilotního signálu 19 kHz), který se přidává v malé úrovni do MPX stereofonního signálu. RDS je všeobecně známý systém, protože díky němu se na RDS přijímačích objevuje název stanice, autorádia potom na základě tzv. alternativních kmitočtů přelaďují automaticky na nejlépe slyšitelný vysílač.

Systém RDS je ovšem schopen přenášet podstatně více informací, např. dopravní zpravodajství a radiotexty. RDS byl vyvinut v Evropě a dnes se úspěšně prosazuje na celém světě. Asi 90% autorádií, které se dnes vyrábějí, je tímto systémem vybaveno.

RDS kodér Phobos EC 2005 X byl vyvinut Phobos Audiem. Je nástupcem populárního kodéru RDS 2001 X. Kocepce systému je založena na hluboké znalosti trhu a požadavků klientů. Používá jednodeskovou koncepci se zálohovanou pamětí 8 kB, dva mikrokontroléry (jeden pro synchronizaci, druhý pro zpracování dat). Veškeré nastavování i vysílání dynamických dat se odehrává přes linku RS 232 v protokolu PHOBOS. Tato koncepce je pravděpodobně ideální pro většinu uživatelů, především pro soukromé stanice.

Kodér vysílá následující informace: Název stanice, Alternativní kmitočty ( až 7 ), Dopravní hlášení, Typ programu, Radiotext, Datum/čas, EON... (PI, PS, TP, TA, MS, PTY, DI, AF, RT, EON grupy 0, 2 a 4 ( čas, datum a EON pouze ve spojení s PC s programem RDSWorld 2001 ) ).
Hlavním cílem při vývoji bylo dosažení vysoké kvality za příznivou cenu. Kodér splňuje požadavky normy EN 50067.

Kodér má jednu zvláštní možnost - ovládat TA (dopavní hlášení) pomocí kontaktu. Základní instalace s vysíláním dynamických dat je tedy velice nenáročná. Pro TA=1 (okamžik dopravního hlášení) je možno si nadefinovat jiný než základní název stanice a radiotext.

Nastavovací program pro 32 bitová Windows (95,98,ME,NT) je přiložen. Phobos Audio dodává i speciální odbavovací program do vysílacího studia. Program (RDSWorld 2003) pracuje ve 32 bitových Windows a je připraven pro práci v síti. Blíže viz stránka o RDSWorld2003.

Instalace kodéru je velmi snadná. Synchronizace na pilotní signál je automatická. V případě monofonního vysílání (dálniční rádio) lze kodér přepnout na vnitřní synchronizaci. Kodér obsahuje synchronizační vstup 19 kHz pro připojení ke starším vysílačům.


Data Input: RS 232
Inputs/Outputs: 3xBNC

RDS parameters:

PI, PS, TP, TA, MS, PTY, DI, AF (max. 7 AF), RT, CT grupy 0A, 2A a 4A (CT and EON in connection with PC only(RDSWorld2003)

Technical parameters:
RDSWorld2003: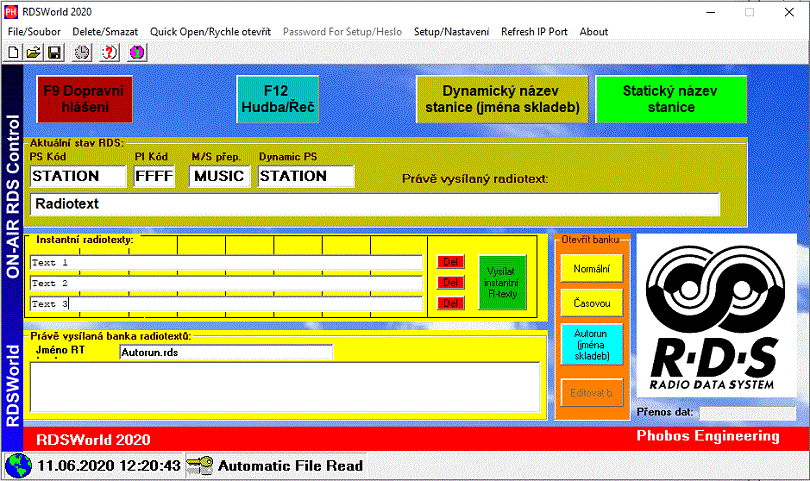 ---